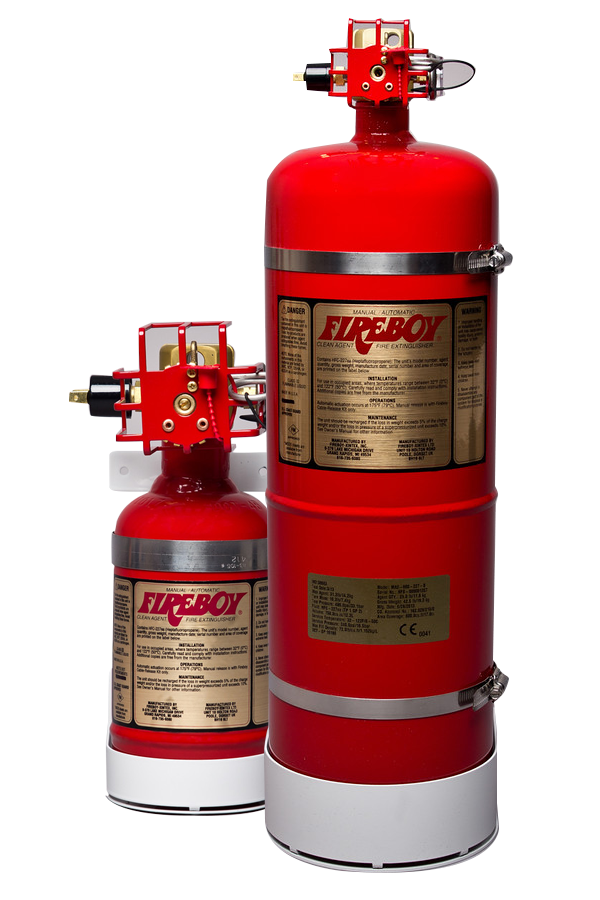 Pre-Engineered System
Fire Boy MA2 Series "All Models"
In stock
Fire-Boy
Fireboy pre-engineered fire systems are available to protect engine rooms and machinery spaces from as small as 25 cubic feet to as large as 1500 cubic feet.  Engineered systems are applied from 1500 cu ft to 3000 cu ft
When Fireboy Pre-engineered fire system discharges, the FM-200 extinguisher is designed to empty the contents in less than 10 seconds entirely. No clean up is required. There is no powdery residue or water left behind. The fire is extinguished by a combination of heat reduction and chemical reaction.
Tags:
Fire-Boy,
MA2 Series,
pre engineered
Each Fireboy pre-engineered fire extinguishing system includes stainless steel mounting brackets, helm station status LED panel and Owners/Installation manual. Backed by a factory 3-year limited warranty.
All Fireboy Pre-engineered fire extinguishers are factory refillable except when the discharge is the result of a fire.
Fireboy clean agent fire extinguisher systems are designed to automatically discharge whenever the protected space ambient temperature reaches 175 degrees F.
Determining proper size tank for your application:

1. Determine the volume of your engine compartment in cubic feet or cubic meters, L x W x H. Do NOT deduct for engines, fixed tanks, or other equipment.

2. Choose your model and size

Example: MA2-950-227 = automatic discharge with optional manual discharge, 950 cubic feet coverage.

NOTE: When in doubt, always select the larger model size for adequate protection.

3. Determine the length of Manual Release Cable needed to quickly reach from the fire extinguisher to the central helm station.

WARNING: Diesel-powered craft require the installation of an Engine shutdown system.


Marine fire safety fixed fire protection links and resources
Marine Fire safety is a critical component to ensuring your safety while out on the water.  Having the appropriate Fire extinguisher and proper fixed fire safety equipment on board could make a big difference in the outcome of a catastrophic event.  Make sure that your boat has the appropriate fire suppression system on board including an engine room automatic fire suppression system, the correct amount of fire extinguishers, Life preservers, flares, radio communication devices, EPIRBS and other safety devices.  The coast guard will only respond if they know you are in danger. 
Some boats will have an automatic fire suppression system in the engine room which is not the right size.  Ensure that the engine room has been appropriately measured L x W x H= V and install the correct size fire system designed by the manufacturer.  Pre-engineered fixed fire systems are intended to protect by the amount of gas that is in the bottle and the range from 25 cu ft to 1500 cu ft.
The waters are abundant, and a lot of the time you are the only one out there so be sure that you are prepared.  Ensuring that all your systems are current is critical when you need them the most.  Below are some links that should help guide you making sure you have the right equipment on board.
Pacific Fire and Marine is an authorized dealer in marine fire safety equipment for your vessel.  Give us a call if you have any questions about what your boat needs and we will help you.