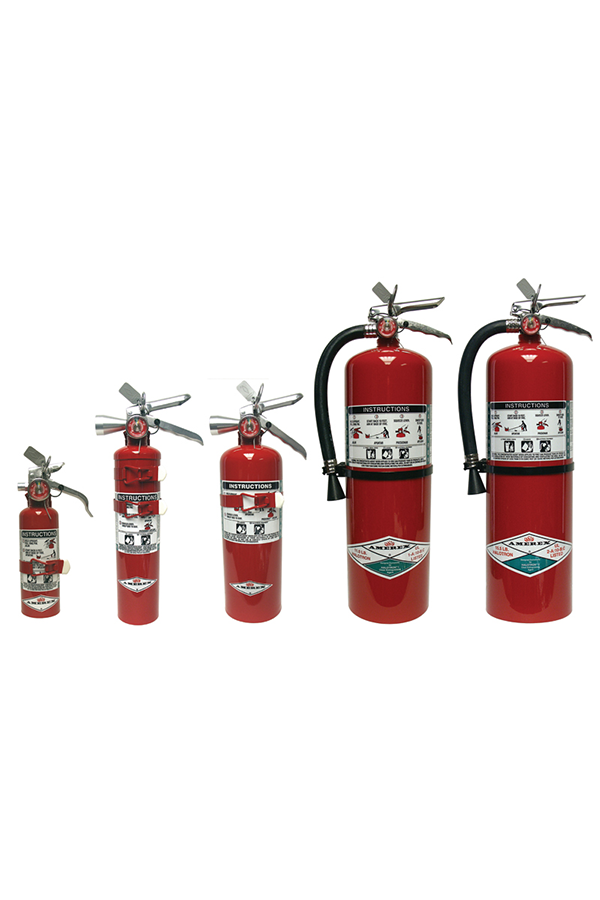 Fire Extinguisher
Amerex Halotron 1 Fire Extinguishers
In stock
Amerex
Halotron™ I clean fire extinguishing agent discharges as a rapidly evaporating liquid, which is non-conductive, non-corrosive, and leaves behind no residue. Halotron™ I is the clean agent market leader with a history of successful real-world protection of valuable assets. From model scale aircraft to wide-body commercial aircraft, from data centers to pharmaceutical and other industrial plants, the Halotron™ I agent has been used to extinguish the fire, limit damage and help reduce downtime that can be caused by other agents. 
Dependable drawn steel cylinders
All metal valve construction
EPA approved "Clean Agent" for Class A, B, and C hazards
Low GWP (Global Warming Potential)
Low ODP (Ozone Depletion Potential)
Short Atmospheric lifetime
Leaves no residue
Maximum visibility during discharge
No electrical conductivity back to the operator
No thermal or static shock
Barcoded and bi-lingual labels
Tags:
Clean Agent,
Fire Extinguisher,
Halotron,
Halotron 1

The Halotron™ I clean agent has been determined to be the most environmentally beneficial halocarbon agent on the market today that meets full performance standards. The primary raw material in the agent is HCFC-123, which has an outstanding profile of near-zero ozone depleting potential (0.0098, CFC-11=1.0) and a low global warming potential (77, 100 yr. CO2 time horizon). 
State of the art atmospheric modeling completed in 2009 describes the smaller environmental footprint than HFC-based agents available for portable extinguishers. Ideal applications for these extinguishers include: data centers, laboratories, manufacturing plants, general office areas, computer rooms, telecommunication facilities, clean rooms, control rooms, warehouses, military electronics, vehicles including classic autos, boats, engine compartments, aircraft ramps, onboard aircraft and in facilities that service aircraft and any facility where dry chemical extinguishers could cause unacceptable damage or contamination.
Features 
| | |
| --- | --- |
| Capacity | 2.5 pounds |
| Chemical | Halotron I Clean Agent |
| Discharge Time | 9 seconds |
| Range | 6-10 ft |
| UL and ULC Rating | 2B:C |
| | |
| --- | --- |
| Capacity | 5 pounds |
| Chemical | Halotron I Clean Agent |
| Discharge Time | 9 seconds |
| Range | 9-15 ft |
| UL and ULC Rating | 5B:C |
Marine fire safety fixed fire protection links and resources
Marine Fire safety is a critical component to ensuring your safety while out on the water.  Having the appropriate Fire extinguisher and proper fixed fire safety equipment on board could make a big difference in the outcome of a catastrophic event.  Make sure that your boat has the appropriate fire suppression system on board including an engine room automatic fire suppression system, the correct amount of fire extinguishers, Life preservers, flares, radio communication devices, EPIRBS and other safety devices.  The coast guard will only respond if they know you are in danger. 
Some boats will have an automatic fire suppression system in the engine room which is not the right size.  Ensure that the engine room has been appropriately measured L x W x H= V and install the correct size fire system designed by the manufacturer.  Pre-engineered fixed fire systems are intended to protect by the amount of gas that is in the bottle and the range from 25 cu ft to 1500 cu ft.
The waters are abundant, and a lot of the time you are the only one out there so be sure that you are prepared.  Ensuring that all your systems are current is critical when you need them the most.  Below are some links that should help guide you making sure you have the right equipment on board.
Pacific Fire and Marine is an authorized dealer in marine fire safety equipment for your vessel.  Give us a call if you have any questions about what your boat needs and we will help you.